The SBC and NAMB (North American Mission Board) have issued a challenge to all our churches and associations to engage in 1 million gospel conversations by June of 2018.  (Click:  GC Challenge)  As a team player like you, I'd love for us to support this most recent effort to get serious about the Great Commission, together!
But it is no secret that many Christians tend to be intimidated and even fearful in sharing Jesus and the gospel, especially in the post Christian culture we are now living in.  "How do I get started?"  "What do I say?"  "What if I can't answer their questions?"  "What if they react?"  "How do I follow up?"
Great, honest questions.  That is why after hearing that for over 30 years as a pastor myself, I have been creating an approach called "PrayEvangelism," and a unique tool called "Conversations with God," that can ease their minds and equip their hearts to share Jesus far more easily that they have probably ever imagined.  Really.
The secret in a nutshell  is to totally change the dynamic of evangelism from trying to seemingly "sell" Jesus and "get" people to buy, to "offering" the gifts of Jesus, prayer, conversation, a book, and co-learning through the gospel.  The difference is HUGE and I would be honored to unpack all of this personally on a Sunday morning with your church family through the tool and a special message.
MESSAGE: The Art of the Gospel Conversation
1  Enter the Conversation  (Experiencing PrayEvangelism)
2  Offer the Conversation  (Offering to pray and learn together)
3  Continue the Conversation  (Giving a tool to talk about later)
TOOL:  Conversations with God

A compact devotional book that offers co-learning and inspiration in:
Prayer * Evangelism * Discipleship * Basic Christianity *  Mentoring Moments * Systematic Theology * Biblical Theology * Applied Theology -
All in one handy volume with 95 prayers in classic Q & A's and a "Mentoring Moment" to be read one minute a day.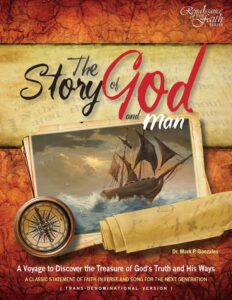 A children's full color picture book version is also available for family devotionals with the 95 Q & A's set to music in 10 songs and based on three classic catechisms from the Reformation era.  It is called: "The Story of God and Man."  (Click titles to get a peek!)
I hope to hear from you to work together to get God's people beyond their pews at church and sofas at home to share Jesus with a lost and dying world, just like He did!