"When they had arrived and gathered the church together, they began to report all things that God had done with them and how He had opened a door of faith to the Gentiles." -– Acts 14:27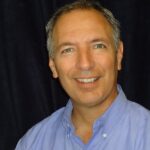 Dr. Mark P. Gonzales has served as the executive director/associational mission strategist for the Royal Palm Baptist Association, since July 2014. After serving as a church planter and pastor for 32 years, most recently as the founder and lead pastor of Gateway Grace Fellowship, sbc, here in
southwest Florida, from 1990 to 2014. He sensed the Lord leading him away from local church ministry in early 2014, to focus on regional and global mission work, and continues to serve as a radio broadcaster, author, columnist, consultant, and speaker.  He and his wife Lindy, a former MK in Peru, have five grandchildren and three married sons who, along with their wives, actively serve the Lord in various ministries here in Florida.
To get a glimpse of Dr. Mark's heart:
[] Tune in to his Heritage Hour radio broadcast, Saturdays at 8 a.m. on Kingdom 91.5 FM.
[] Catch his Mentoring Moments weekdays at 4:25 and 7:55 p.m. on Kingdom 91.5 FM.
[] Read his "Whispers of God" monthly column in the Gateway Lifestyles periodical.
[] Check out his unique,192-page children's picture book and other books he has written at:  quillpress.org
Dr. Mark came to southwest Florida in 1990 after completing his M.Div. and D.Min. work at Southwestern Baptist Theological
Seminary in Ft. Worth, Texas, to shepherd a struggling church plant of 24 people that would "find out what God was doing and get in on it."  Over the years, they would see the Lord use Florida Baptists, the Maguire State Mission Offering, and the North American Mission Board to help them purchase property, build their first facility by 1993, and add to it as they grew into a healthy church family, loving the Lord, and reaching the lost of southwest Florida.
_________________________________________________________________________
Jennifer Horton
has served as the
administrative assistant to the executive director/associational mission strategist since July 1987. Prior to her current position, she served as secretary to the minister of education & senior adults at McGregor Baptist Church. Jennifer & her husband Larry are members of Daybreak Baptist Fellowship.
Jennifer has been an active member of  NAMA (National Association of Ministry Assistants) formerly the National Association of Southern Baptist Secretaries (NASBS) since 1989. She served them as their vice president membership for the 2009-2011 term, president  for the 2011-2013 term and currently serves as their historian. Visit
www.NAMA-SBC.org 
for more information about the National Association of Ministry Assistants.